Our May 9 blog post announced the WAVA Pastor's Luncheon that the firm sponsored. Last month John Recny and Dana Evans (pictured below) attended the event where they met with many local pastors. Special thanks to those who signed up for John's paper on "What to Build." It's a short synopsis of the steps we recommend you review when you are thinking about building or renovating your facilities. If you would like a copy, just contact us.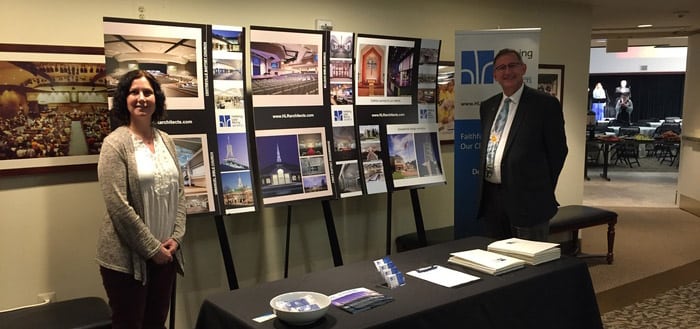 ---
We have been lucky enough to work with and for the James Rumsey Technical Institute, a regional technical school outside of Martinsburg, West Virginia for many years. We have completed more than a dozen projects for them with the latest being a security enhancement project. Their accessible new secure entrance vestibule (pictured) provides a secure check-in location for visitors, and several doors around the facility were also provided with access control.
---
Construction on the Purcellville Children's Academy continues per schedule with completion anticipated for later in the summer. You can view a construction video from PCA's website here:
---
A wonderful magazine article was written regarding the planning, designing, and building of Trinity Christian School, in Fairfax, Virginia back in 2016 and the acknowledgement of our design continues into 2018. We are proud to be featured on the cover of the "Christian School Products 2018 Buyer's Guide"
You can read the Christian School Products magazine article by clicking here.
---
Construction is about to begin on the Knollwood Community Church Family Center in Burke, VA; the Sam Michael's Amphitheater outside of Charles Town, WV; the W. Randy Smith Rec Center addition in Inwood, WV; and the First Baptist Church of Alexandria in Alexandria, VA.
On the boards – we continue working on the design of Immanuel Anglican Church in Prince William County, VA; Rivendell School in Arlington, VA; Columbia Baptist Church in Falls Church, VA; and the Chapel at Priest Field Pastoral Center in Kearneysville WV, as well as several other projects.
---
Stay tuned for more information on them in our next blog post.