In 1975, when Sam Michaels Farm was designated as a West Virginia State Park, Jefferson County Parks and Recreation had an excellent opportunity to develop something for future generations to love and cherish. Fast forward to 2003, the Jefferson County park authorities hired HLR Architects (then "Helbing Lipp Ltd") to develop a master plan for a new amphitheater at Sam Michaels Park, a few miles outside of Charles Town. At the time, the park authorities were hosting concerts and entertainment events at the park using a small open stage on a trailer: simply a temporary solution.
When HLR Architects was first called about this project, we were excited to design a facility that would positively impact so many people.
Our original plan for Sam Michaels Park included a sizable permanent stage, support spaces such as dressing rooms and offices, a separate building for restrooms, a ticket booth, and a concessions building. Equally important, the seating design included 500 fixed seats, with massive lawn space behind and next to the fixed seating for another 1500 people. These plans would skyrocket the level of enjoyment Sam Michaels Amp (now known as "The AMP") was able to bring to its guests.  
Upon completing the master plan and site renderings, the Jefferson County Parks and Recreation Commission was excited that the plan was now in place. Unfortunately, the county's funding was not available, and in the ensuing years, the focus turned to building other facilities instead.  But in 2017, nearly 15 years later, it was decided to move forward with the project.  Lucky for us, the property rendering we prepared for them in 2003 included our signature and logo printed on the back. We were eager to get the callback, notifying us to turn the project plans into a reality.  
The funding available was only for a small portion of the entire project, so HLR Architects updated the plan by developing it into six phases. Meanwhile, excitement began to arise in Jefferson County as word got out about the construction of the amphitheater.
The first phase involved building a massive amphitheater stage, taking full advantage of the existing sloped grounds. The stage structure is farm-like and surrounded by a beautiful River stone foundation, with golden brown natural wood board-on-batten siding. 
The stage is covered by a fresh-green-grass colored shed roof, with a large wood truss spanning over 50 feet above the stage. 
Fast forward to 2019, as the new amphitheater came closer to being finished, 18 concerts in a wide variety of genres and three drama camps for kids were scheduled for the year. After the successful inaugural season, the 2020 season was suddenly closed due to COVID-19 (an event that we can deeply relate to). On the bright side, we're now in 2021 and are ecstatic about The AMP at Sam Michaels Park opening back up! 
What better way to celebrate with your friends and family this summer than by enjoying some performing arts, music, and theatres outdoors?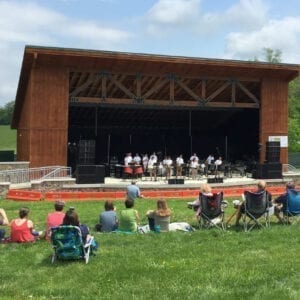 To read about the other institutional facilities we have designed Click Here.