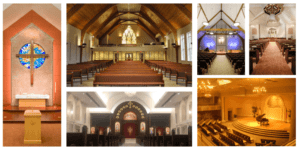 We are excited to announce that Helbing Lipp Recny Architects is sponsoring the WAVA Radio's Pastor Conference and Luncheon on November 8th at the Museum of the Bible!
We are looking forward to meeting the pastors and attendees this year and learning about the building and expansion goals of the faith community in the DMV.
The last WAVA Radio's Pastor Conference and Luncheon we participated in was in 2018. Since then, we have worked with over 20 faith-based communities, and we are looking forward to displaying and discussing our work with the attendees of the conference.
If you are interested in attending the event, you can register here. The featured speaker for the event is Pastor Jack Hibbs, host of the "Real Radio with Jack Hibbs" program on WAVA at 2:30pm daily. There will also be a panel of seasoned pastors discussing the challenges and victories of pastoring.
Along with our sponsorship of the event, we will have a booth set up throughout the day. Please stop and say hello if you are attending the luncheon; otherwise, feel free to contact us directly via phone, email, or through the website so we may discuss how we can help you realize your building goals. No matter how large or small your building project, we would love to talk to you.
Have a wonderful and blessed day!