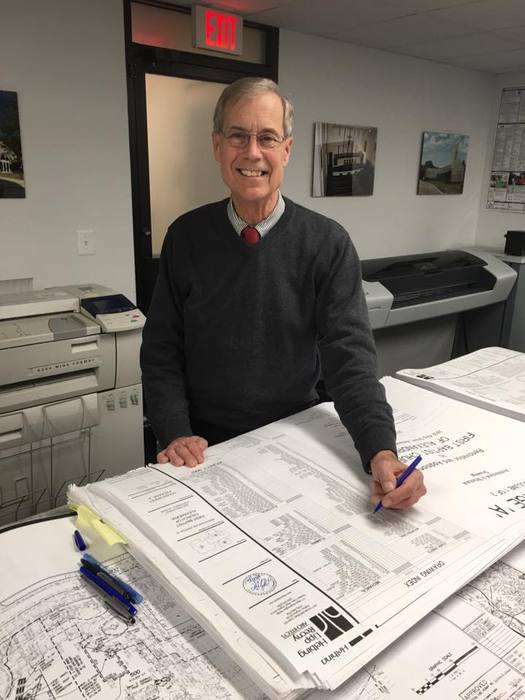 After over 43 years of designing churches, schools, restaurants, businesses and much more, our co-founder David Lipp has announced his retirement.
Serving clients in Virginia and West Virginia, David will be missed by long-time clients and coworkers alike, although he intends to remain in the area for a time and offer his expertise to our firm on several of our current projects. His legacy will live on in years to come, as Helbing Lipp Recny Architects expands our reach and improves our ability to deliver even more high-quality architectural services.
Moving forward, our firm will be in excellent hands. President John Recny will take the reigns as the sole owner of the company. Looking forward to his new role, John is ready to tackle new challenges. "I am very excited for our firm as we turn the page," John said.
"Dave always gave our clients 100 percent of his time, talent and energy," John continued. "I've learned how important that is and intend to build upon that commitment. The professionals that make up our firm are dedicated to continuing our tradition of faithful client service, while embracing the new technologies and design challenges of our time."
Joining our firm as a partner in 1998, John became an owner eight years ago and brings decades of experience. Specializing in religious architecture, John has boosted the firm's relationships with faith-driven institutions across the region.
In 1973, David Lipp and Thomas Helbing opened the doors of our Vienna, Virginia office. Over the years, our diverse client list grew to include restaurateurs and retailers, church pastors and school principals.
David designed many well-known buildings in the area, including Safeway stores, SunTrust banks, McDonald's restaurants, libraries in Centreville and Fairfax, McLean High School and Trinity Christian Schools, as well as hundreds of major churches including McLean Bible, Centreville Baptist, First Baptist in Alexandria, Columbia Baptist in Falls Church, Immanuel Bible in Springfield, and Cherrydale Baptist in Arlington.
Project Designer Dana Evans admires Dave's dedication to his work. "His devotion to architecture and the entire process of designing and creating is total and pure," she said. "His drawing skills are beautiful in a world where hand-drawn details and renderings are not used much anymore."
David also helped extend our company's imprint into the Eastern Panhandle of West Virginia. Since 1983, our office in Charles Town has served religious, commercial, and educational clients in this region. In fact, David has designed addition and renovation projects for nearly every school in Jefferson County, imprinting our firm's trademark stamp of innovative problem-solving and careful attention to details.
As much as things change, one aspect of the firm never will. All our design services uphold high ethical values, practicality and common sense. These have been the cornerstones of our practice for over 40 years and will remain the cornerstones for years to come.