On Saturday, January 14th I attended the dedication of the new Immanuel Anglican Church's Mission Outpost, the culmination of a journey that began in 2016 when they asked HLR Architects to design their new home.
It has been such an honor to plan and design this new church for such a special congregation. I had the pleasure to work with the church's "move team" building committee throughout this process and would like to thank them all, especially co-chairs Bob Mann and Chloellen Miller, for their hard work and perseverance that made the Immanuel Anglican's new home possible.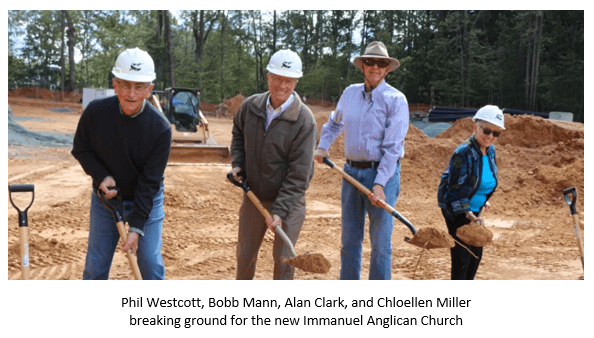 Their new church building includes a sanctuary with seating for 200, a nursery, two children's classrooms, a multipurpose classroom, offices for staff, a kitchenette, a prayer room, an AV booth, and an altar guild sacristy.  It sits on about 5 acres on Hoadly Road, surrounded by woods.
The dedication on Saturday was a happy one. The service included readings, prayer, communion, jubilant music and singing.  Bishop John Guernsey from the Mid-Atlantic Diocese attended and consecrated of the facility and its furnishings to the glory of God.  Pastor Travis Hines asked Chloellen, Bob, Tom Nicholson and Jeff Zavalanski from Hammerhead Construction, and me to join them on the Sanctuary platform, where Bob thanked us for being responsible for the design and construction of their new building. Chloellen then told the congregation how much she enjoyed working with our design and construction team.  Chloellen has been such a wonderful person to work with. Her words about Tom, Jeff, and I being friends and gentlemen though the process of building Immanuel Anglican's new home was incredibly high praise from a very special client.
The Bible says; Commit your works to the Lord and your plans will be established (Proverbs 16:3).  The congregation of Immanuel Anglican Church is an example of the faithfulness and commitment it takes to build a House of the Lord.  The passion, generosity, and perseverance of the leadership and the entire congregation of Immanuel Anglican Church is incredible and it has truly been an honor to serve this congregation.  Immanuel means "God With Us" and on Saturday, I truly felt His presence in that church.
I would also like to thank Hammerhead Construction and all their subcontractors for their excellent work; Legendary Signs for the beautiful monument sign on Hoadly Road; Integrity Furniture and Equipment for the sanctuary chairs; Miller Church Interiors for the communion rail; and artist Ryan Schroeder for the sanctuary cross; as well as our design/engineering team —  Kennedy Structural Engineers, A J Engineers (MEP), Cowen Design Group (Civil), CTL (geotechnical) and NVDS (permits).