It was a glorious Sunday afternoon in October, with the sun brightly shining in a crisp, blue sky, when Immanuel Anglican Church celebrated their groundbreaking ceremony at their new property on Hoadly Road in Manassas.  Bishop John Guernsey joined Pastor Travis Hines, members of the church's Move Team, and church leaders to officially break ground for their new "mission outpost" building.  HLR's John Recny was honored to attend along with Tom Nicholson from Hammerhead  Construction, the builder for the project.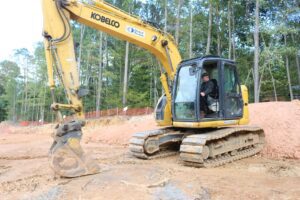 After the ceremony, those attending were able to walk around the site and see the progress that  has been made so far, both on the site as well as at the building pad itself.  And Pastor Hines was invited to operate one of the large shovels for a little while – I am sure he enjoyed that a lot!
We are proud to stand beside Immanuel Anglican Church as their long-awaited new home takes shape.  We look forward to dedication in 2022!  Thank you to members of our design team, including AJ Engineers (mechanical/electrical),Cowen Design Group (civil engineers), SKMAC (audio-video systems), CTL Engineering (geotechnical/inspections), and a special thank you to our Contractor, Hammerhead Construction and their many outstanding subcontractors. 
You can read more about our project at Immanuel Anglican here.