Merry Christmas, everyone!
With the holiday season around the corner, I wanted to give everyone an update on our current projects and what we are looking forward to in the new year!
In 2022, we completed projects for Pleasant Valley United Methodist Church, Vienna Assembly of God, Arlington Church of Christ, Oakton Montessori School, and Bishop O'Connell High School.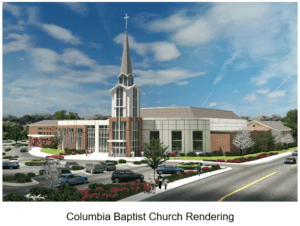 We are continuing to work with Columbia Baptist Church in Falls Church as construction turns from the exterior of the building to the interior.
The schematic designs for Grace Bible Church and Woodbridge Second Day Adventist Church have been completed and we look forward to both projects moving forward in 2023.
The construction for Immanuel Anglican Church is now complete and the congregation moved into their new home, with the first service there last Sunday, December 18.  The formal dedication is planned for January. We are so happy to have worked with the wonderful members of this church to make their dreams a reality.
We continue to work with James Rumsey Technical Institute on two projects on their campus in Hedgesville WV.  We are renovating their early childhood center, and replacing several mechanical units on the main building.  Both of those projects will be completed next year.
We are beginning phase 2 of our project for the Jefferson County Parks and Recreation Department – at the AMP at Sam Michael's Park.  This phase will include a restroom and concession building, along with offices and a meeting room, and connecting the park to the county sanitary sewer system.
We are also working with Burtonsville Baptist Church in Maryland on their accessibility project. This project will include a new exterior sidewalk, a new lift, and new restrooms.
Finally, the Leadership Institute in Arlington, VA asked us to design the renovation of the second floor of their facility.  The goal for this renovation is to make the space more modern with traditional touches, improve sound control, and provide for natural light in the space.
In early 2023, we look forward to working several new projects including two fellowship hall renovations; for St. John's Lutheran Church in Franconia VA and Asbury United Methodist Church in Charles Town WV.
Finally, we want to thank the wonderful consultants and contractors we have worked with this year. In 2022 these included Adtek Engineers, AJ Engineers , Bohler Engineering, Chamberlain Construction, Comfort Design, FHC Engineers, Hammerhead Construction, Joy Edwards Interior Design, J Thompson Construction, K3 Construction Group, Kennedy Structural Engineers, Minghini's General Contractors, Polysonics , Potomac Energy Group, Rinker Design Associates, Top Level Engineering, Uniwest, W. Harley Miller Contractors, Walter L. Phillips Civil Engineers, Whitener & Jackson Contractors, and many more.   Without you, the vision of our projects would not be possible.